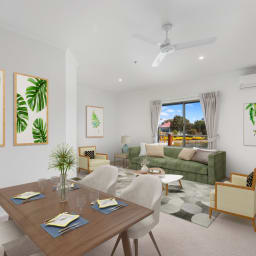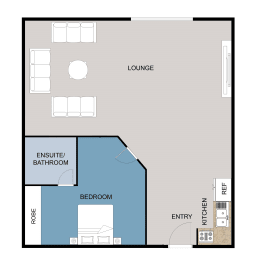 Studio/ One Bedroom | Serviced Apartments
$145,000 - $165,000
Patterson Lakes Serviced Apartments are the ideal living option for those looking for an extra helping hand and fuss free retirement. Our one bedroom and studio Serviced Apartments are designed with comfort and relaxation in mind featuring a bright open-plan living space, built-in wardrobes, kitchenette, whilst also being located in a wing of the Community Centre. Meals, linen laundry serviced and weekly cleaning mean you can truly enjoy life knowing all is taken care of.
Further to your wonderful apartment is the beautiful community facilities, including communal bar and lounge, dining room with dine in and delivery options, coffee station, hair salon, library, visiting doctor and much more.
Well sized one bedroom apartments
Large lounge and dining area, separate to the bedroom
Spacious kitchenette including kettle, toaster and bar fridge
Nice and bright, light filled rooms, some overlooking the village lake
Located within the community centre
Close proximity to all community facilities
Meal service
Cleaning and linen service
Supportive and caring staff
Please refer to Change of Mind Money Back Guarantee.
*Prices correct as at 28/6/23. Exit fees and other charges are payable. For details call 1800 72 71 70. Subject to availability. Photographs, illustrations, and virtual tours are indicative only. Furniture and accessories not included.
Availability of contract options depend upon the village and the type of home. The entry payment and fees payable are based on the contract option you choose. Usually, you will pay a departure fee when you permanently leave the village. You may also be entitled to a share of any capital gain (or required to share any capital loss) with the villager operator. Please refer to the residence contract for the full terms and conditions.