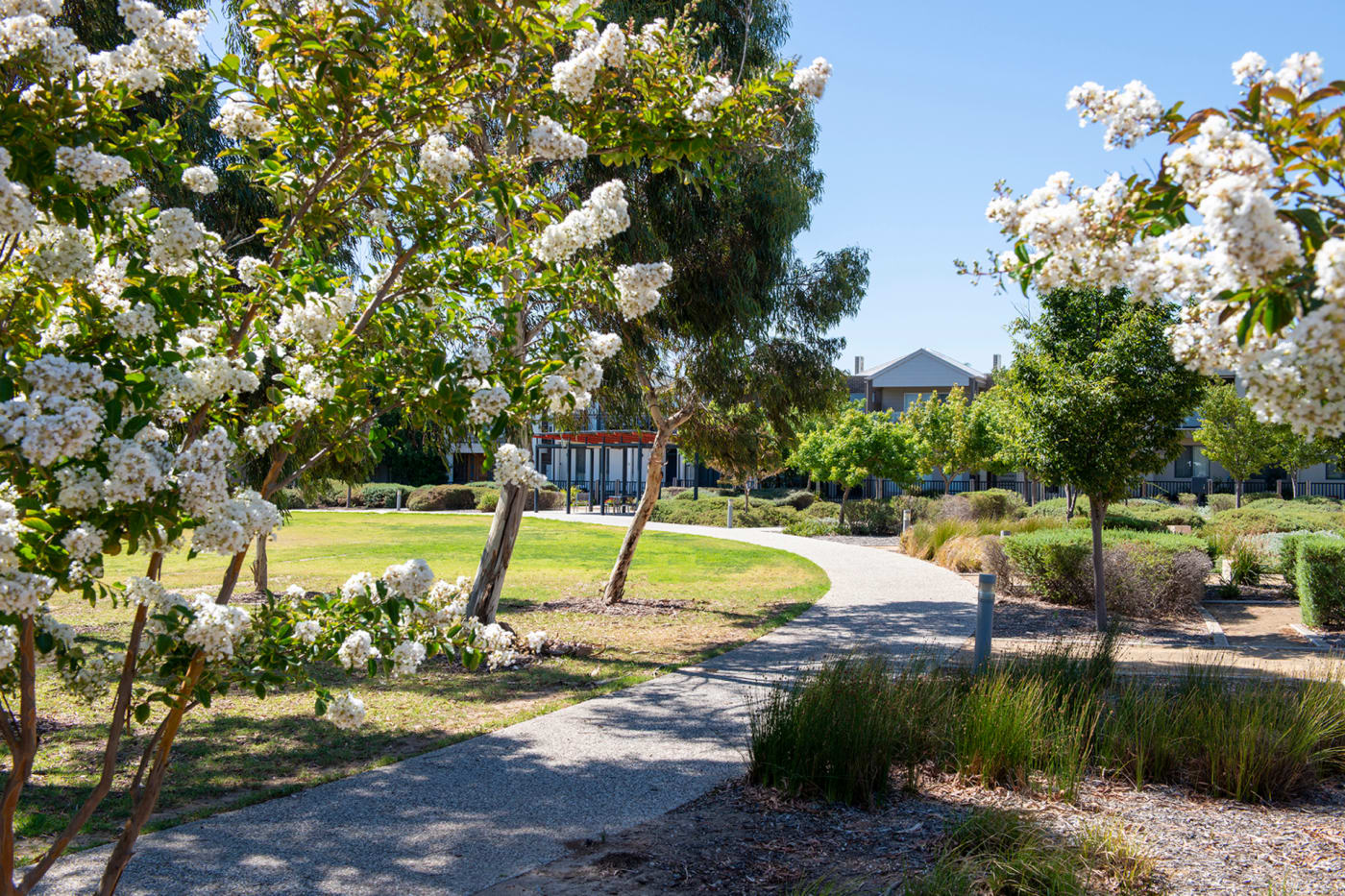 With location comes lifestyle, and Lightsview will keep you living life to the full. From botanical gardens, golf, shopping centres and dining – you really are living amongst everything you need!
Only a hop, skip and a jump away, you have so much to enjoy with family, friends and your local community. Enjoy your days with recreational activities, shopping and scrumptious local cuisines.
Here are a few of our local favourites we know you will enjoy – all part of your City of Port Adelaide Enfield!
Mawson Lakes Golf Club
Location: Mawson Lakes Blvd Mawson Lakes
Phone: 08 8302 3412
Website: https://mawsonlakesgolfclub.com.au/
Who doesn't enjoy a good hit of golf every now and then!? Only 9km away is the newly transformed 9-hole course of Mawson Lakes Golf Club, Adelaide's newest golfing destination.
You can start your days with a round of golf with your mates, followed by some lunch and a well-earned beverage. Or, have a hit in the afternoon and find a perch in the clubhouse as the sun goes down. This club is as much about golf as it is about socialising! Just like our committee here at Lightsview, they love putting on a good social event like wine nights, working bees, luncheons, Christmas get-togethers and so much more throughout the social calendar.
Feel free to give one of the friendly team members a call to discuss a membership suitable for you or simply play with mates as a visitor. See you at Mawsons!
Northgate Shopping Centre
Location: 211 Folland Avenue Northgate
Conveniently located 800m from us, is our quaint 'go to' Northgate Shopping Centre. This is your local spot for the everyday conveniences such as Woolworths for groceries, a Newsagency to grab your local news or purchase that winning scratchie, through to services for filling your script. If you're in need of picking up your daily bread, Helen at Brumby's has you covered! Or perhaps it's dinner you need? Pick up some takeaway from a range of venues including pizza.
Make sure you keep an eye out for the local school children – your 'little community members' who frequent this centre to raise much needed money for their community – recently for the bush fire victims. No words, super special!
Botanic Gardens of South Australia
Location: North Terrace Adelaide
Phone: 08 8222 9311
Website: https://www.botanicgardens.sa.gov.au/
Garden lovers are known to travel far to experience the beauty of botanical gardens. But for us here at Lighsview, we travel just 8km to enjoy what the Botanic Gardens of South Australia has to offer.
Keep your spirits high by immersing yourself in nature, discovering unique wildlife or relaxing on the lawns or lakeside. Grab a friend and explore the gardens and collections, the art and the architecture together.
Why not grab the resident gardening group and join one of the many masterclasses on offer to improve your green thumbs?!
Urban Lights
Location: 1 City View Blvd Lightstview
Phone: 08 8261 0700
Website: https://urbanlights.com.au/
What's that? The family have called and would love to pop over and catch up for dinner tonight… but you have nothing in your fridge!
It's ok, no need to rush off to the grocery store, because you have Urban Lights less than 1km away! Catch up with your loved ones in a sheik, comfortable and rustic atmosphere that serves up whole-hearted, fresh and honest food! With inspiration from Portuguese and Italian backgrounds, there's a big range of tasty pizza, arancini, hearty lasagne and vino to go 'round!
Westfield Tea Tree Plaza
Location: 976 North East Road Modbury
Phone: 08 8264 4011
Website: https://www.westfield.com.au/teatreeplaza
There's shopping centres, and then, there's a day out. This is a day out to be had, and it's right outside our front door just a kilometre away.
Plan a day out with a fellow resident, friends or family. You could start your day with a coffee catch up, invite your grandchildren for a morning play or stroll the mall for some much-needed retail therapy. Take a pit stop at The Coffee Club and enjoy a fresh ham and cheese croissant. Take a rest from all that window shopping and pop your feet up in Gold Class to watch the latest flick, accompanied by your favourite drink and a light lunch. No need to move, they serve it straight to you! By now you might be ready to go home, so why not grab a takeaway dinner at Bangkok Boulevard and continue the day back at your place.
Shopping centres can be so much more than the daily groceries! Be sure to visit the friendly concierge on your first trip to help you find your way to whatever your heart desires.
Lightsview Playground
Location: 24 East Parkway Lightsview
So many of us just love to enjoy time with our grandchildren, or share in the joy of grandchildren visiting our village friends. They keep us young, enthused and curious about life by simply being around! Lucky for us, we can walk right next door to enjoy the Lightsview Playground, an enclosed and safe playground for our little ones.
So why not pack a picnic lunch, bring a ball along for a game of catch or bring the dog along for a roam. It's great to get out for some fresh air, and even better to spend it with the grandchildren occupied, so close to home!