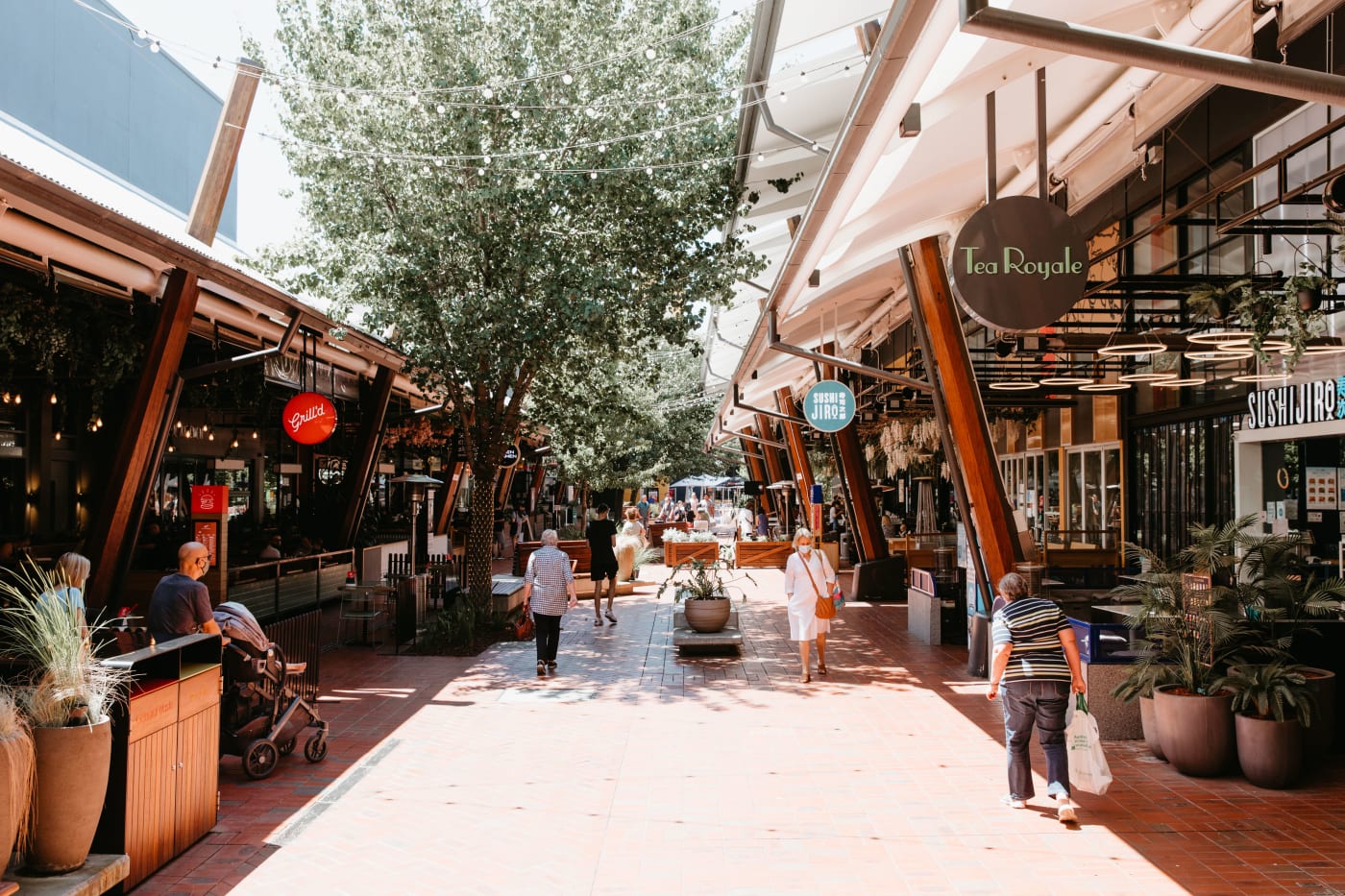 With location comes lifestyle, and Ridgehaven Rise will keep you living life to the full. From walking trails, golf, shopping centres and dining – you really are living amongst everything you need!
Only a hop, skip and a jump away, you have so much to enjoy with family, friends and your local community. Enjoy your days with recreational activities, shopping and scrumptious local cuisines.
Here are a few of our local favourites we know you will enjoy – all part of your City of Tea Tree Gully!
Westfield Tea Tree Plaza Location: 976 North East Road Modbury Phone: 08 8264 4011 Website: https://www.westfield.com.au/teatreeplaza There's shopping centres, and then, there's a day out. This is a day out to be had, and it's right outside our front door just a kilometre away. Plan a day out with a fellow resident, friends or family. You could start your day with a coffee catch up, invite your grandchildren for a morning play or stroll the mall for some much-needed retail therapy. Take a pit stop at The Coffee Club and enjoy a fresh ham and cheese croissant. Take a rest from all that window shopping and pop your feet up in Gold Class to watch the latest flick, accompanied by your favourite drink and a light lunch. No need to move, they serve it straight to you! By now you might be ready to go home, so why not grab a takeaway dinner at Bangkok Boulevard and continue the day back at your place. Shopping centres can be so much more than the daily groceries! Be sure to visit the friendly concierge on your first trip to help you find your way to whatever your heart desires.
St Peters Bakehouse Coffee Shop
Location: 1149 Main North East Road Ridgehaven
Phone: 08 8263 6217
Website: https://www.stpetersbakehouse.com.au/
Let's be honest with ourselves... Who can walk past a good bakery without stopping in? It's that scrumptious smell, a delight to the senses, that gets you every time! You won't be able to walk past St Peters Bakehouse Coffee Shop, located just around the corner from our community.
Kick start your day in a buzzing atmosphere with a newspaper in one hand and a cappuccino in the other. Catch up with family or some fellow residents for a freshly made baguette or roll at lunch. Visitors stopping over? There's a takeaway menu that is perfect to serve your guests some fresh quiche followed by the likes of apple custard pie for dessert. Yum!
With experienced bakers, qualified baristas and friendly staff, you're in good hands at your local bakehouse.
Modbury Bowling Club
Location: 50-97 Jack High Lane Ridgehaven
Phone: 08 8396 0113
Website: https://modburybowlingclub.com.au/
Who doesn't love getting outside, getting active and having a good old laugh with friends – just what bowls gives you!
Considered a little gem, surrounded by trees and away from busy roads is your new local, Modbury Bowling Club. Less than 1km away you can enjoy both indoor and outdoor grass and synthetic greens for play no matter what the weather is doing.
In it for the social vibe? Make sure you head down on a Friday night as we hear they have an extensive bar and restaurant that is the perfect setting to get amongst your community. Better yet, you won't believe how cheap their prices are.
Valley View Par 3 Golf Course
Location: Grand Junction Road Valley View
Phone: 08 8263 2189
Fancy a round of golf? Less than 5km down the road is a hidden little treasure Valley View Par 3 Golf Course. Set in the beautiful parklands of the Thomas Turner Reserve, this 18-hole golf course wraps around a gently sloping hill and provides a good challenge for players at all levels and ages.
Enjoy getting out and about on the greens in the crisp mornings or settle into an afternoon game followed by a beverage, a meal and some good old banter back at the clubhouse. The socialising is half the fun, after all!
Anstey Hill Recreation Park
Location: North East Road Tea Tree Gully
Website: https://www.parks.sa.gov.au/parks/anstey-hill-recreation-park#maps
Sometimes there is nothing better than clearing your head in wide open spaces outdoors.
With a significant reserve of bushland in the foothills of the Mount Lofty Ranges, home to rare or vulnerable native plants and animals, and heritage buildings that date back to 1854, is the Anstey Hill Recreation Park.
Enjoy a walk, get some light exercise in, let the dog roam free, pack a picnic or sit back with a nice book. Yours for the taking, this park is rich in history and it's around 4km from our community.