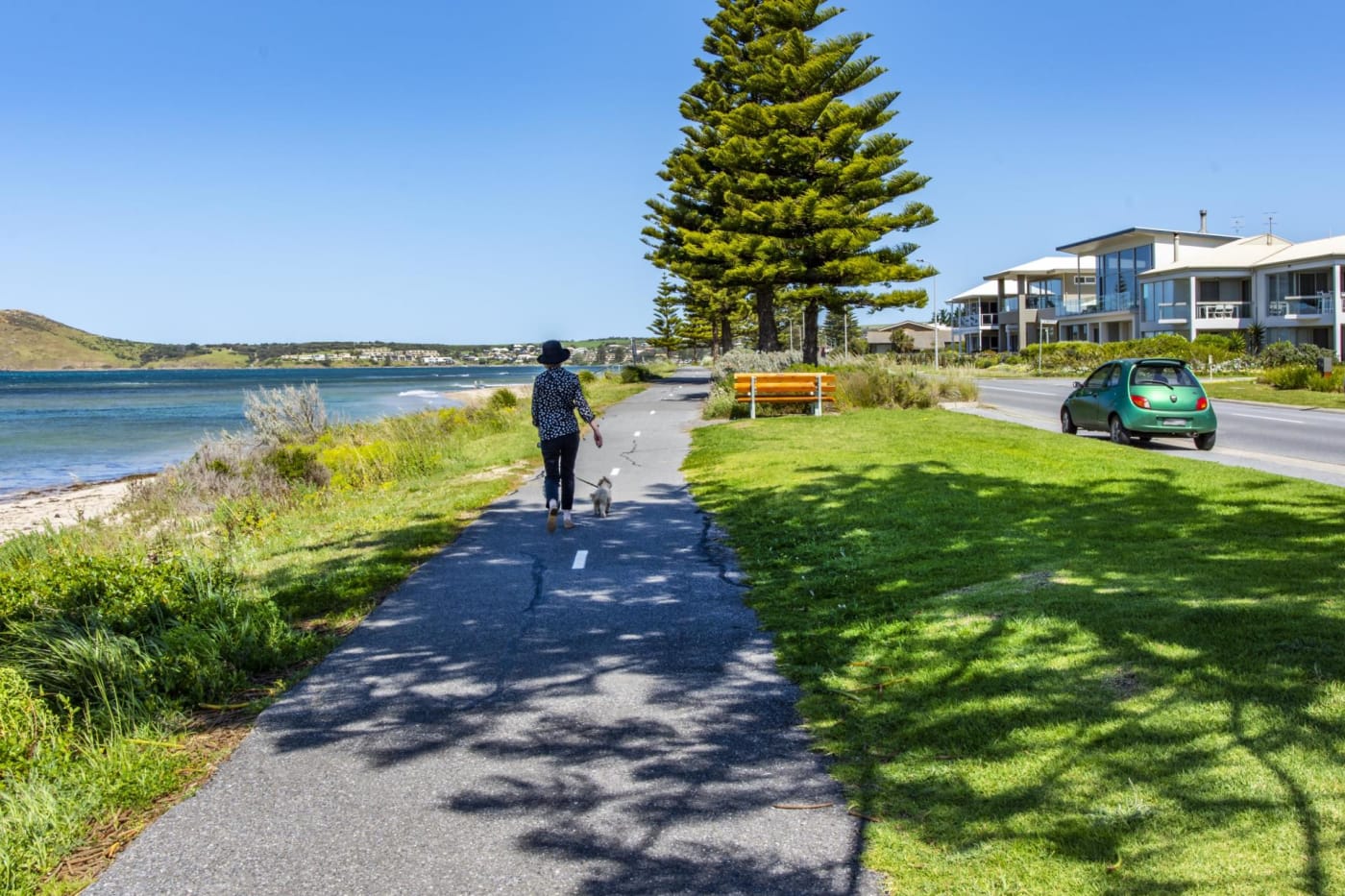 With location comes lifestyle and Bay Village will keep you living life to the full. From beaches, golf, shopping centres and dining – you really are living amongst everything you need!
Only a hop, skip and a jump away, you have so much to enjoy with family, friends and your local community. Enjoy your days with recreational activities, shopping and scrumptious local cuisines.
Here are a few of our local favourites we know you will enjoy – all part of your City of Victor Harbor!
McCracken Country Club
Location: McCracken Drive Victor Harbor
Phone: 08 8551 0200
Website: https://www.mccrackencountryclub.com.au/
Who would have thought that only 5km away from us was this stunning country club? Welcome to McCracken Country Club, where it's all about relaxation, comfort, events and facilities to be enjoyed at your leisure.
What's fabulous about this resort is that after a round of golf with family and friends, you can dine in for a scrumptious meal and make the most of one of their weekly specials.
Why not invite family and friends for a visit in town, enjoy relaxation, comfort, events and facilities in good company!
Nino's Cafe
Location: 17 Albert Place Victor Harbor
Phone: 08 8552 3501
Website: https://www.ninoscafe.com.au/
Did someone say they are feeling like Italian tonight? Then head on down to Nino's Cafe only 1.7km's away. Located in the heart of Victor Harbor's main street precinct, Nino's is a local icon and award-winning family restaurant.
With over 35 years in our (or should I say 'your') fantastic seaside location, Nino's was originally named after local identity and founder, Nino Solari. The Nino's business changed hands over ten years ago to Simon and Kirsten Pitman. Nino's has since developed into the best casual dining experience on the Fleurieu Peninsula, serving well over 180,000 customers just like you per year.
From the mouth of the chef – 'There really is something for everyone here at Nino's'!
Victor Harbor Beaches
Location: Esplanade Victor Harbor
We all know how lucky we are to have our village so close to the stunning Victor Harbor Beaches – not even 1km away!
Here you will enjoy kilometres of sandy shore to stroll down, as well as rugged clifftop trails (for those of us that are a bit more adventurous) with crashing waves below.
There's also The Bluff, the best place to take in the views of Victor Harbor or you could simply enjoy a day with your grandchildren and a spot of whale watching.
With so much to do, it's yours for the taking!
Anchorage Seafront Hotel
Location: 21 Flinders Parade Victor Harbor
Phone: 08 8552 5970
Website: https://anchoragehotel.com.au/
Once you have finished at the beach, what better way to finish off a perfect day than dining at the heritage listed boutique Anchorage Seafront Hotel.
Located right across the road from Victor Harbor's East Beach, only a five-minute walk from the Victor Harbor horse-drawn tram and more importantly, located just 2km from home, you're all set!
Their menu has been carefully designed around fresh local produce and includes hearty breakfasts, with homemade soup and crusty bread and fresh salads, char grilled seafood and steak dishes and wood fired pizza for lunch and dinner.
Their friendly staff welcome you to join them for an enjoyable meal on the seafront verandah in alfresco style for the summer months or in front of the cozy open log fire in the winter time.
Victor Central Shopping Centre
Location: 37 Torrens Street Victor Harbor
Phone: 08 8552 4196
Website: https://www.victorcentral.com.au/
This centre has plenty to offer our residents with everything from fresh food and entertainment, gifts and homewares to sporting goods and fashion. Catch a breather and some coffee, enjoy a baked good or grab lunch with some friends at one of the cafes located throughout the mall.
Just what we like, shopping is always easy at Victor Central with a large variety of retail on offer and plenty of free convenient car parking!
And here's the hot tip! Before you head down, make sure you click on their 'What's On' page where they display all their in-store specials.
The Boulevard Cafe
Location: 41 Bartel Blvd Victor Harbor
Phone: 08 8552 5092
To many of us here at Bay Village, the owners of The Boulevard Café are just like extended family, always welcoming you with open arms, a friendly familiar smile, a hug and of course a little ching wag.
This quaint little café just down the road is a great little local to relax and enjoy scrumptious and wholesome family-style food at great prices. Locals say it really is great value for money and you will never leave hungry.
To these guys you are not just another customer, you and your loved ones are like family!